UBIQUICOM ACTIVE SAFETY SOLUTIONS
FOR WORKERS, VEHICLES, AND ASSETS
SOLUTIONS FOR ACTIVE SAFETY AT WORK
A wide range of solutions based on the most advanced high-precision real-time locating technologies, to bring the safety of workers to the highest levels.
In manufacturing plants, warehouses, and many other areas of work, workers are exposed to risks every day when using or moving in contexts with vehicles and industrial machinery for handling and lifting.
The devices installed on the machines and worn by the workers on foot ensure a high degree of prevention for pedestrian – machine, machine – machine and machine-fixed obstacles accidents, thanks to the integration between different types of warning and danger signals, and systems of an automatic slowdown of the vehicles.
The solutions for active safety at work, allow or:
preventing injuries and incidents,
monitoring environments and identifying the most dangerous spots
interacting with operators in real-time
checking the health status of workers in indoor and outdoor contexts
Reporting dangerous situations.
Safety solutions are designed to prevent and reduce the risk of collisions and accidents in high-risk areas caused by the simultaneous presence of people and vehicles (such as forklifts, cranes, , tractors, trucks, loaders, bulldozers, etc.). People are located anonymously, in compliance with privacy regulations (e.g. GDPR).
UBIQUICOM solutions for active safety enable: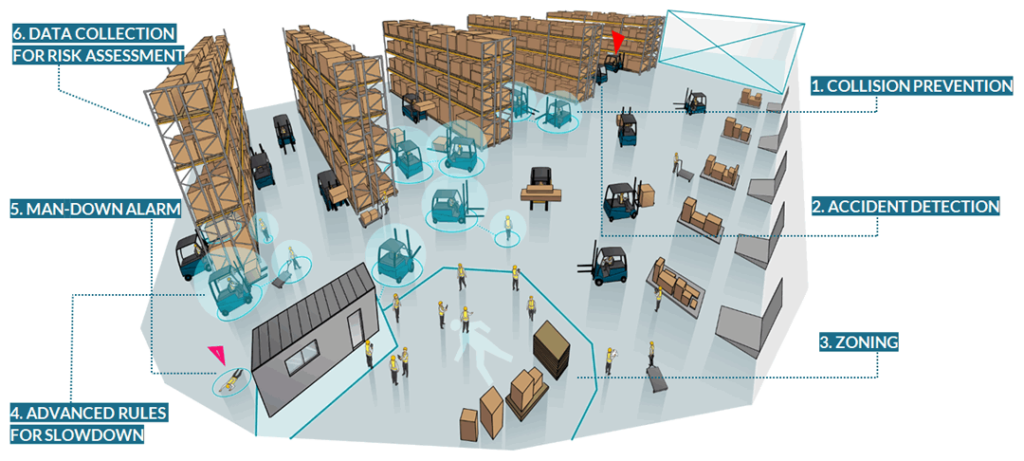 ANTI-COLLISION
UBIQUICOM's anti-collision solutions, which can be integrated into materials handling, lifting and earthmoving equipment
implement Safety features for scenarios such as: Machine – Machine, Machine – Pedestrian and Machine – Fixed obstacle;
can automatically slow down the vehicle and generate an audible and light signal;
are based on the most modern UWB (Ultra Wideband) or optical technologies, to measure with the maximum accuracy the position and distances between machines, workers and fixed obstacles, recognizing and discriminating actual situations of alert and danger from false alarms;
can be used in a wide range of vehicles and application scenarios;
are quick to install, thanks to a compact architecture and an intuitive setup.
THE ANTI-COLLISION SYSTEM THAT IS SIMPLE TO INSTALL
Proximity determines the mutual distance of moving vehicles, people, and fixed obstacles. The system can manage acoustic-visual alarms and the automatic slowdown of the vehicle. Warning and alarm distances are configurable.
DISCOVER HOW PROXIMITY MAKES YOUR WAREHOUSE SAFER ->

ADVANCED ANTI-COLLISION SYSTEM TO MINIMIZE FALSE ALARMS
Proximity Plus determines the mutual position of moving vehicles, people, and fixed obstacles. The system can manage acoustic-visual alarms and the automatic slowdown of the vehicle. Alert and alarm areas around moving vehicles are geometrically definable and configurable according to the characteristics of the working environment, drastically reducing false alarms and unnecessary slowdowns.
DISCOVER HOW PROXIMITY PLUS MAKES GOODS MOVEMENTS SAFE AND EFFICIENT ->

FOR INDUSTRIAL VEHICLES, ANTI-COLLISION SYSTEM USING UWB ANGLE OF ARRIVAL TECHNOLOGY
THIRD EYE is the most advanced anti-collision solution capable of determining the exact position of obstacles, industrial vehicles, and personnel. It can integrate this information with the vehicle's speed and trajectory using Ubiquicom's proprietary and patented UWB technology. The THIRD EYE system provides a comprehensive and accurate view of potential hazards around the vehicle, minimizing "false alarms" by alerting only the elements on a collision path. The alert and alarm areas can adapt to the actual movement and route of the vehicle.
Thanks to the UWB AOA (Angle of Arrival) technology, THIRD EYE represents a cutting-edge technology in industrial safety, offering both precise location and maintained efficiency at the highest levels.
DISCOVER HOW THIRD EYE BRINGS SAFETY AT WORK TO THE HIGHEST LEVEL WITHOUT FALSE ALARMS ->

ANTI-COLLISION SYSTEM FOR SAFE CROSSINGS
It drastically reduces the risk of forklift collisions at intersections and in blind spots. The system, by means of a light projected at the center of the crossing and the emission of acoustic signals, alerts the forklift drivers near a crossing of the mutual proximity to the danger point.
DISCOVER WHY THE WAREHOUSE CROSSINGS WILL NO LONGER BE DANGEROUS ->

THE COMPARISON OF THE ANTI-COLLISION SYSTEMS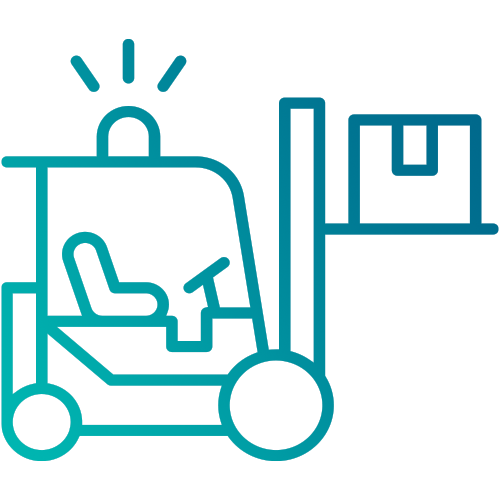 PROXIMITY
Collision prevention through the calculation of the distance to fixed and moving obstacles
Compatible with all modern material-handling vehicles
Extremely quick installation (just one radar per vehicle)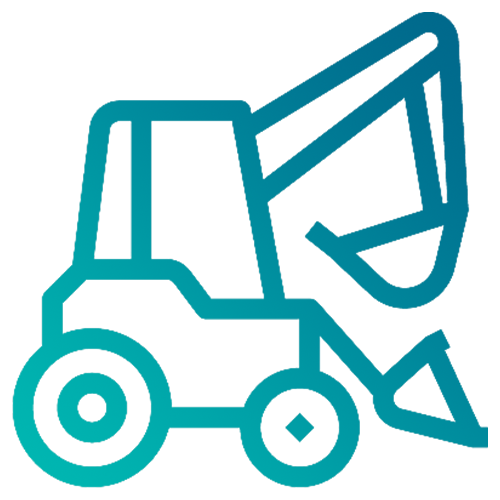 PROXIMITY PLUS
Collision prevention through the calculation of distance and position of fixed and moving obstacles
High accuracy detection and false alarms reduction
Configurable and variable geometry alert and alarm zones
Compatible with all modern material-handling vehicles
Quick setup via a mobile application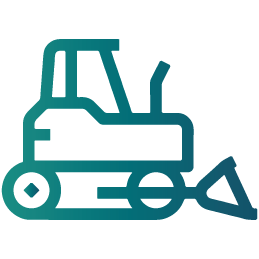 THIRD EYE
1. Prevenzione delle collisioni grazie al calcolo della distanza di ostacoli fissi o in movimento e delle traiettorie relative.
Collision prevention through the calculation of the distance to fixed and moving obstacles and the relative trajectory
Robustness and reliability with patented UWB AoA technology
Configurable and variable geometry alert and alarm zones
Integration with vehicle CAN-Bus (OEM)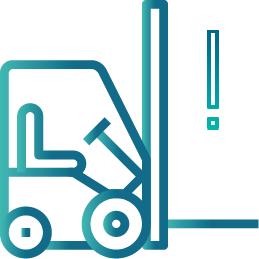 WAREHOUSE SAFEYE
Avoidance of vehicle collisions at intersections (crossings)
Easily installed
Can be integrated with locating systems for safety and production efficiency
PEOPLE SAFETY
How to reduce risks for personnel safety in the workplace?
Workplace safety is a top priority, and the use of wearable sensors can significantly reduce risks for personnel, whether they work alone or in a production setting. These devices, which can also be integrated into personal protective equipment (PPE), constantly monitor the worker's location anonymously and can issue alarms to the control center in case of danger.
Implementing a real-time monitoring system is essential to mitigate risks. The systems detect hazardous situations through data collected from the sensors and immediately send alerts to the worker and the safety team.
Furthermore, the data collected from the sensors can be used to analyze workplace risks (e.g., near misses) and implement preventive measures and risk assessments.
DISCOVER ALL THE DEVICES UBIQUICOM HAS DESIGNED TO PROTECT PEOPLE AT WORK ->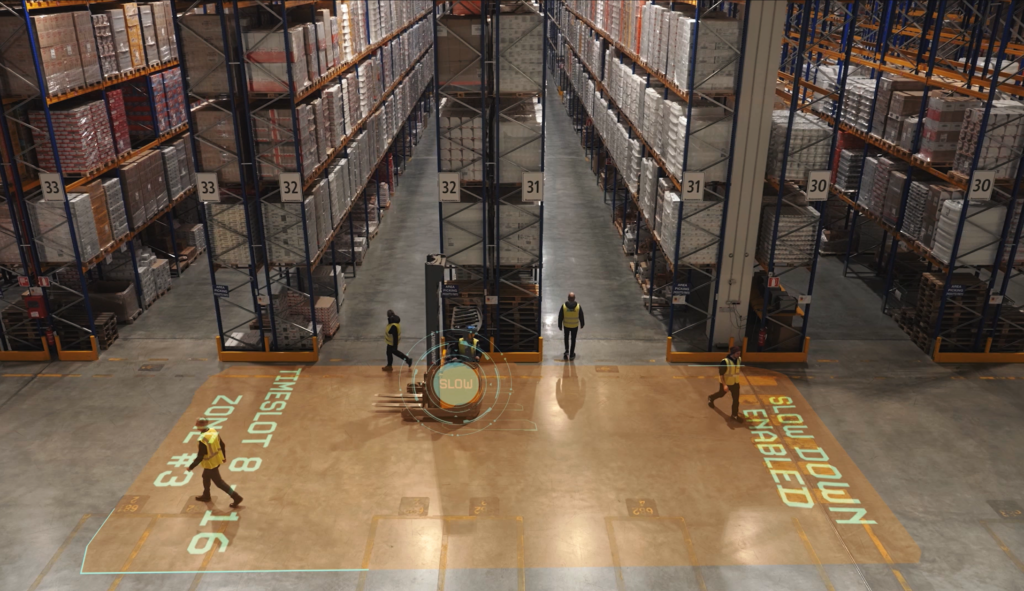 Contact us for demos, brochures or more information