UBIQUICOM'S FIVE SOLUTIONS TO THE ESSENTIAL NEEDS OF INTRALOGISTICS
An ecosystem of technologically advanced solutions that can be integrated into all forklifts to simultaneously implement Security & Efficiency in intralogistics.

1 | Smart forklift fleet management with TrackVision telematics
2 | Safety in warehouses and production environments thanks to anti-collision solutions
3 | Real-time locating of vehicles, people, and assets with the Locator platform
4 | Efficient logistics processes with SYNCHRO Artificial Intelligence
5 | Optimized maintenance with SHINDAN remote diagnostics
The FORKLIFT ECOSYSTEM is the result of the know-how gained over the years by Ubiquicom and stands out for the offer of a complete and integrated system of solutions focused on the handling of loads using forklifts.
It is a complete system that can be installed on any forklift, of any brand and size, enabling safety and greater efficiency of the handling processes.
1 | SMART FORKLIFT FLEET MANAGEMENT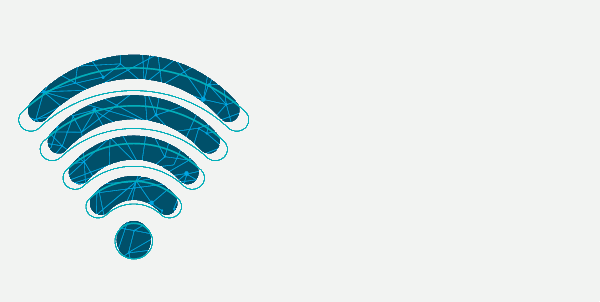 Why is it important to have a fleet of forklifts interconnected and equipped with a telematics fleet management system?
Thanks to an integrated telemetry system on board the handling equipment, all the operating data of the forklift can be accessed (e.g. vehicle location, actual hours of use, access control, pre-operational checklist result, log of any impact suffered, battery status, fork height and presence of the load on them, etc.): this allows a comprehensive and immediate view of the operational status of the fleet. It also allows to improve its efficiency, control its correct use, plan operations, maintenance, and interventions in a timely manner, thus achieving a decisive saving in terms of cost and time.
TELEMATICS
TRACKVISION
TrackVision is the ideal tool for the smart management of the fleet of handling equipment. The system allows forklift trucks, logistics vehicles, and industrial machinery to be interconnected with the factory systems already present in the company (MES, WMS, ERP), thus ensuring an integrated and optimized management of company resources.
DISCOVER ALL THE BENEFITS OF A FLEET EQUIPPED WITH TRACKVISION ->
DASHBOARD OF HISTORICAL FLEET USAGE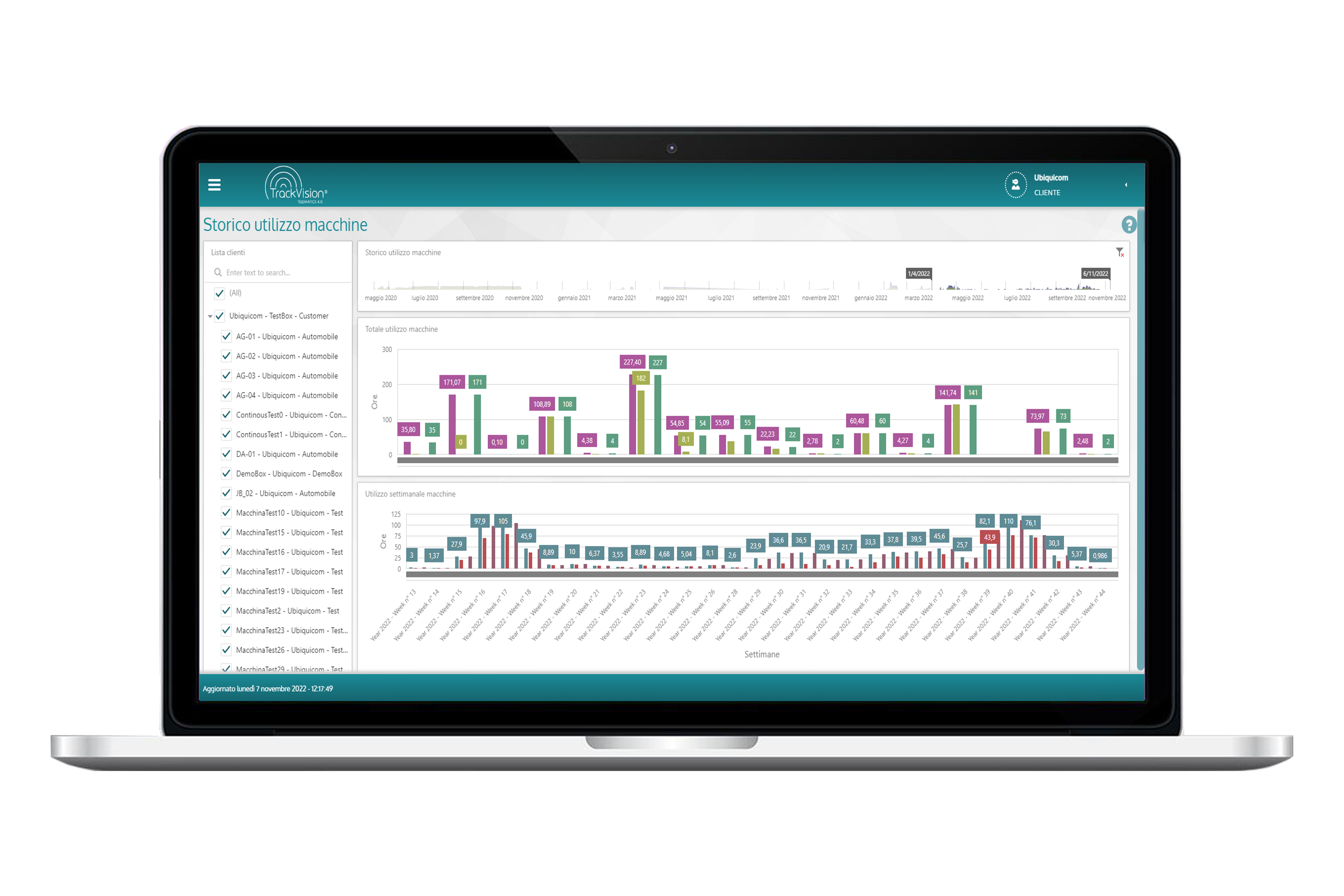 HEATMAPS AND GEO-MOVEMENT MAPPING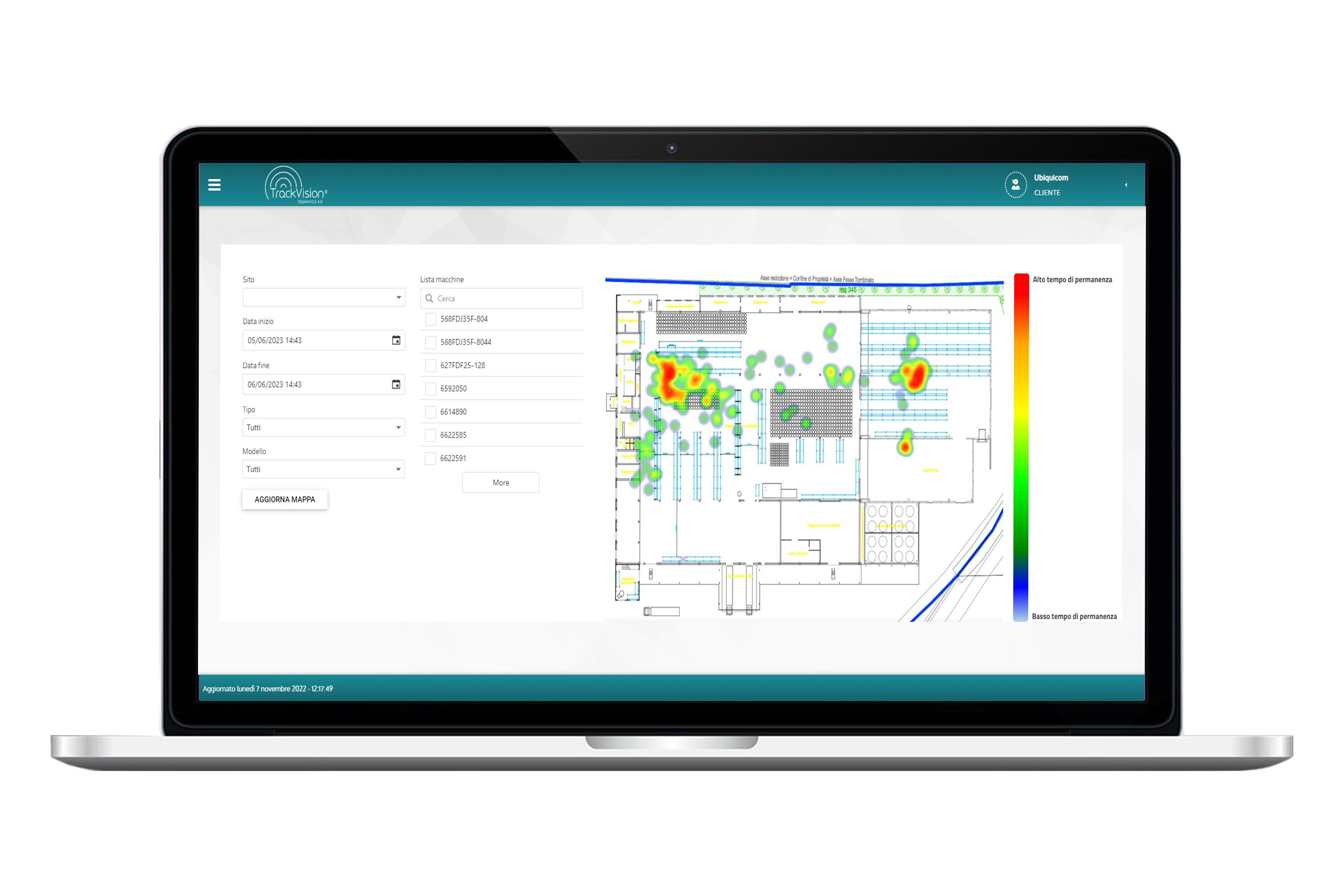 2 | SAFETY IN WAREHOUSES AND PRODUCTION ENVIRONMENTS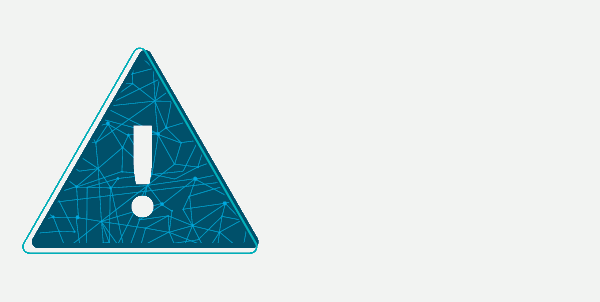 Active occupational safety solutions that can be integrated into forklift trucks allow to locate, monitor and interact with operators in real time and verify their health in indoor and outdoor environments.
Safety solutions are designed to increase workplace safety, by minimizing the risk of collisions and accidents in high-risk areas caused by the simultaneous presence of people and forklifts, cranes, and other moving machines. People's location will be provided anonymously in compliance with privacy regulations.
UBIQUICOM active safety solutions enable:
COLLISION PREVENTION
ACCIDENT DETECTION
STATIC AND DYNAMIC ZONING
ADVANCED VEHICLE SLOWDOWN RULES
"MAN DOWN" ALARM
 DATA COLLECTION FOR RISK ASSESSMENT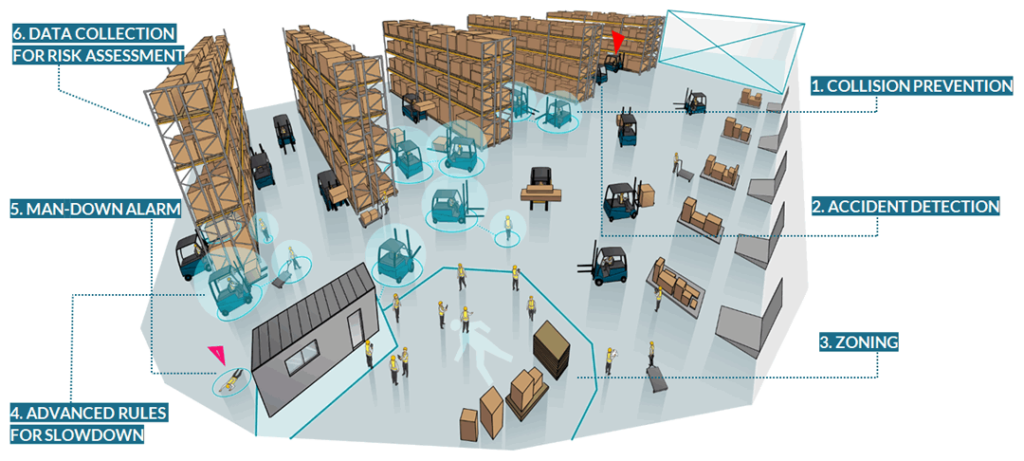 ANTI-COLLISION
PROXIMITY PLUS | ADVANCED ANTI-COLLISION SYSTEM TO MINIMIZE FALSE ALARMS
APPLICATION FIELD: intensive logistics contexts, indoor and outdoor, from production lines to the warehouse, which have narrow spaces, numerous intersections and areas with a high density of vehicles and people.
VEHICLES: medium/large forklifts.
INFRASTRUCTURE: installation directly on the vehicle. It does not require special staff training, or any fixed infrastructure in the working environment.
SYSTEM COMPONENTS: UWB personal tags for walking operators and UWB vehicle radar kit (No. 3 radar for each forklift), acoustic-visual buzzer. Optional UBIQUICOM "Forklift Companion" vehicle mount computer.
OPERATION: Proximity Plus determines the mutual position of moving vehicles, people, and fixed obstacles. The system can manage acoustic-visual alarms and the automatic slowdown of the vehicle. Alert and alarm areas around moving vehicles are geometrically definable and configurable according to the characteristics of the working environment, drastically reducing false alarms and unnecessary slowdowns.
DISCOVER HOW PROXIMITY PLUS MAKES GOODS MOVEMENTS SAFE AND EFFICIENT ->

PROXIMITY | THE ANTI-COLLISION SYSTEM THAT IS SIMPLE TO INSTALL
APPLICATION FIELD: small and medium-sized logistics companies with warehouses and production environments, indoor and outdoor, with large spaces and low density of vehicles and people moving in a hybrid way in the same working area.
VEHICLES: forklifts, even small size, three-sided, pallet trucks.
INFRASTRUCTURE: quick and easy installation directly on the vehicle. It does not require special staff training or any fixed infrastructure in the working environment.
SYSTEM COMPONENTS: UWB personal tags for walking operators and a UWB vehicle radar for each forklift, acoustic-visual buzzer.
OPERATION: Proximity determines the mutual distance of moving vehicles, people, and fixed obstacles. The system can manage acoustic-visual alarms and the automatic slowdown of the vehicle. Warning and alarm distances are configurable.
DISCOVER HOW PROXIMITY MAKES YOUR WAREHOUSE SAFER ->

WAREHOUSE SAFEYE | ANTI-COLLISION SYSTEM FOR SAFE CROSSINGS
APPLICATION FIELD: logistics entities with indoor warehouses and production environments and which have numerous intersections, blind corners, and numerous moving vehicles.
VEHICLES: forklifts, trilateral, pallet trucks.
INFRASTRUCTURE: Quick and easy installation, requires no special staff training.
SYSTEM COMPONENTS: two communicating components, the transmission device on the forklifts and the receiving device on the ceiling.
OPERATION: It drastically reduces the risk of forklift collisions at intersections and in blind spots. The system, by means of a light projected at the center of the crossing and the emission of acoustic signals, alerts the forklift drivers near a crossing of the mutual proximity to the danger point.
DISCOVER WHY THE WAREHOUSE CROSSINGS WILL NO LONGER BE DANGEROUS ->

3 | REAL-TIME LOCATING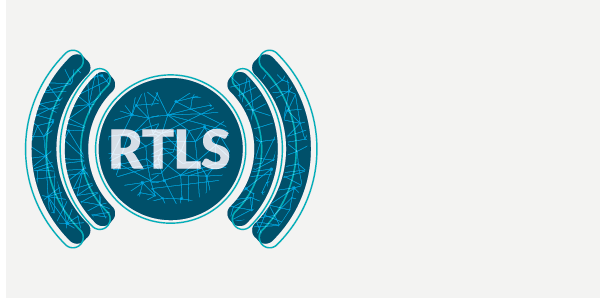 How to make a logistics system more efficient?
RTLS systems enable real-time location of  vehicles, people and assets and real-time analysis of the collected field data.
Such systems are powerful allies of logistics and production companies to achieve the following goals:
faster cargo handling operations
reduction of errors/misalignments between planned and actual inventory
drastic reduction in material search times
rationalization of time and costs
superior level of the overall supply chain, process, and workflow control
Improved safety for people, vehicles, and goods.
All this is possible through hardware devices and software platforms for the direct or indirect locating and real-time tracking of the position of operators,  the handling vehicle, and goods.
Depending on the degree of accuracy required and the scope of application, these systems can be based on different technologies: Ultra Wideband (UWB), Bluetooth Low Energy (BLE), Mesh, GNSS.
Ubiquicom is able to govern all locating technologies and integrate them within its proprietary software platform: LOCATOR.
RTLS
LOCATOR | SOFTWARE PLATFORM FOR REAL-TIME LOCATION OF PEOPLE, VEHICLES AND ASSETS
The Locator platform, based on standard architectures and protocols, communicates bidirectionally with different RTLS devices and processes field data generated by different locating technologies.
Using all collected field data, the Locator platform identifies the location of each monitored object, performs actions, and generates location-based events, making all location information available – both in real-time and as history – to other software platforms.
Ubiquicom Locator is the only locating platform completely independent of the technology and devices used.
DISCOVER THE BENEFITS OF HAVING REAL-TIME GOODS HANDLING DATA ->

4 | IMPROVING PRODUCTIVITY IN WAREHOUSE LOGISTICS WITH SYNCHRO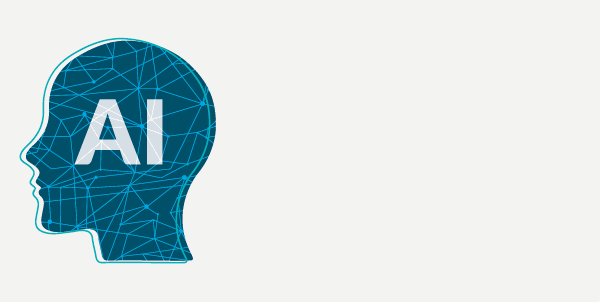 How to improve warehouse productivity?
The warehouse, in particular the big entities in intensive logistics, is the fulcrum of the business: being able to increase its productivity is of vital importance in order to increase its profitability by maintaining high standards of Quality and Safety.
The complex logistics warehouse is generally governed by a WMS (Warehouse Management System), a software designed to manage the operating cycle. Through these software, companies control all logistical processes, from the receipt of goods to their shipment.
The limit of WMS is the inability to manage events in real time: the list of missions that are organized by the software does not consider changes of scenario due to other operations in progress, delays in deliveries, machines that fail, bottlenecks that slow down the movement of goods, etc.
To increase the productivity and therefore the profitability of the warehouse, it is necessary to put a "booster" to the WMS.
ARTIFICIAL INTELLIGENCE
SYNCHRO | INCREASES THE PROFITABILITY OF THE LOGISTIC WAREHOUSE WITH DOUBLE-DIGIT SAVING
SYNCHRO is the RTLS add-on for WMS that, thanks to the ability to orchestrate missions in real-time, allows to make more efficient logistics and warehouse processes generating double-digit savings.
SYNCHRO, equipped with artificial intelligence algorithms, offers the following advantages:
decreases the time of missions
reduces  forklifts dead trips
determines the optimal sizing of a material handling system
increases service standards
can be integrated with any WMS software already in operation
DISCOVER HOW TO INCREASE WAREHOUSE PROFITABILITY WITH SYNCHRO ->

5 | OPTIMIZED MAINTENANCE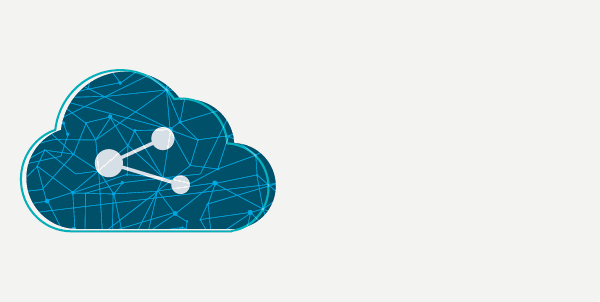 How is it possible to optimize the maintenance of lifting equipment by reducing costs and downtime?
A healthy forklift is the essential condition for maintaining worker safety and productivity.
When a forklift has a fault or it is suspected that a break, a wear, or a failure of the system is about to occur, it is necessary to activate the maintenance technician who must arrange an appointment, carry out a site inspection, establish the nature of the problem and possibly order spare parts and then return to the site at a later time and provide for replacement in the event of a breakage.
In the meantime, the machine is working at low speed or, in the event of major failures, is stationary, causing costly delays in the production cycle.
Streamlining maintenance time is possible thanks to SHINDAN REMOTE DIAGNOSTICS.
REMOTE DIAGNOSTICS
SHINDAN | REDUCES COSTS AND TIME OF INTERVENTION, LIMITS DOWNTIME
Based on UBIQUICOM bluebox, the remote diagnostic system allows to identify anomalies in forklifts without the need to go to the site and to install any additional software than those already in use.
The system allows to:
reduce troubleshooting times
reduce maintenance downtime
optimally manage spare parts warehouse
save on maintenance costs
limit the number of journeys of technicians with a view to environmental sustainability and energy saving.
DISCOVER HOW TO OPTIMIZE FORKLIFT MAINTENANCE WITH SHINDAN ->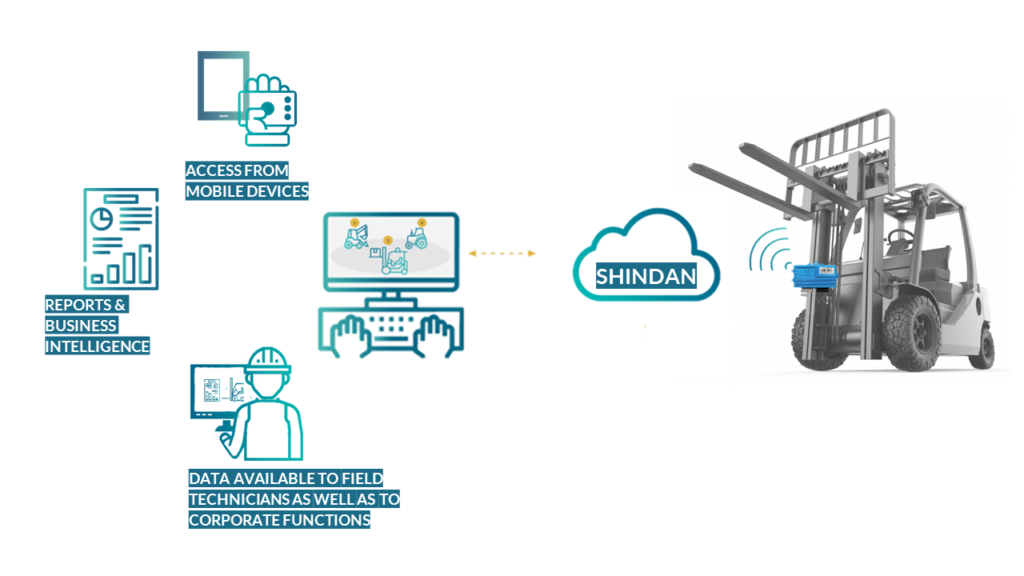 Contact us for demos, brochures or more information