EFFICIENCY FOR INDUSTRIES AND LOGISTICS
MAXIMISE PRODUCTION EFFICIENCY
How can AI and RTLS technology improve logistical flows and increase operational efficiency?
Due to the need for speed and precision in logistics and production, operations are increasingly becoming automated.
Automation achieved with RTLS makes it possible to speed up actions, relieving workers of those dangerous or repetitive tasks with low cognitive value.
At the same time, the introduction of automation in the production context transforms these settings into hybrid spaces and requires special focus on the safety of workers.
Hence, there is a need for increased visibility in the entire supply chain of a company.
A visibility that today is possible thanks to the integration of IoT and Artificial Intelligence (AI) with company resources, such as ERP and WMS.
RTLS systems are very versatile and can generate great benefits and efficiency in various contexts and respond to multiple requirements.
Real-time tracking of people, vehicles and assets, for example, allows you to detect:
the real-time position of vehicles and goods in intensive logistics allows the planning of activities according to the contingent situation, reducing empty travel and minimizing execution times;
the frequency and modes of utilization, parking, and downtime of handling machines to control the fleet's proper use;
impacts and near-misses to improve the industrial environment's safety and efficiency by giving essential data for redesigning the warehouse's layout and avoiding dangerous spots and bottlenecks;
the positioning of mobile and motorized assets at production and storage sites in order to enhance fleet management and make warehouse operations more efficient;
the anomalies of the means of handling and the necessities of maintenance in order to reduce the time of technical intervention and to limit the productive downtimes;
the location of semi-finished and finished products in order to have a real-time view of production and warehousing progress;
Personnel costs in the production line to improve order accounting efficiency.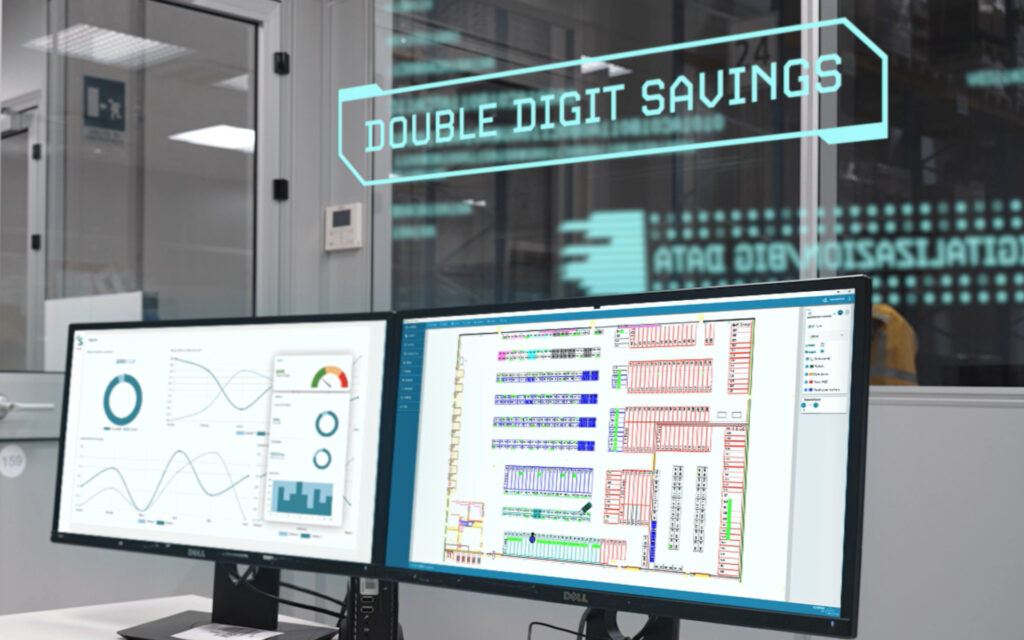 SYNCHRO | | INCREASES PROFITABILITY OF LOGISTICS WAREHOUSE WITH DOUBLE-DIGIT SAVINGS
SYNCHRO is the RTLS add-on for WMS that, thanks to the ability to optimize the flow of warehouse missions in real-time based on the location of means and goods and the environmental conditions of the moment (traffic, speed of movement, duration missions, available bays, etc..), allows to make more efficient logistics and warehouse processes generating double-digit savings.
SYNCHRO, equipped with artificial intelligence algorithms, offers the following advantages:
decreases the time of missions
reduces forklifts dead trips
determines the optimal sizing of a material handling system
increases service standards
can be integrated with any WMS software already in operation.
DISCOVER HOW TO INCREASE WAREHOUSE PROFITABILITY WITH SYNCHRO ->

TRACKVISION | SMART FORKLIFT FLEET MANAGEMENT
TrackVision is the ideal tool for the smart management of the fleet of handling equipment. The system allows forklift trucks, logistics vehicles, and industrial machinery to be interconnected with the factory systems already present in the company (MES, WMS, ERP), thus ensuring an integrated and optimized management of company resources.
DISCOVER ALL THE BENEFITS OF A FLEET EQUIPPED WITH TRACKVISION ->

SHINDAN | REDUCES COSTS AND TIME OF INTERVENTION, LIMITS DOWNTIME
Based on UBIQUICOM BlueBox, the remote diagnostic system allows identifying anomalies in forklifts without the need to go to the site and install any additional software than those already in use.
The system allows to:
reduce troubleshooting times
reduce maintenance downtime
optimally manage spare parts warehouse
save on maintenance costs
limit the number of journeys of technicians with a view to environmental sustainability and energy saving.
DISCOVER HOW TO OPTIMIZE FORKLIFT MAINTENANCE WITH SHINDAN ->

LOCATOR SUITE: INDUSTRY AND WAREHOUSE EFFICIENCY
The Ubiquicom Locator is a software platform developed by Ubiquicom for tracking and locating people, vehicles, and assets in real-time, as well as managing complex location-based events in real-time.
Ubiquicom Locator is one of the few locating platforms that supports a wide range of RTLS technologies and devices from both Ubiquicom and third-party manufacturers.
The main features of the Locator:
visualize and search devices and people on synoptic
maps and zones management
event, notifications and alarms management
real-time and batch analytics
indoor and outdoor maps visualization.
Ubiquicom Locator is an extremely versatile tool, ideal for responding to the need for efficiency and security of companies operating in various sectors.
In particular, the Locator offer has been expanded to realize vertical solutions for our costumers' needs in three main sectors:
DISCOVER ALL THE FUNCTIONALITIES OF THE SOFTWARE PLATFORM UBIQUICOM LOCATOR ->

Contact us for demos, brochures or more information