PROXIMITY PLUS
The advanced collision avoidance system that uses the precision of three radars to include positioning information, prevent accidents, and significantly reduce false alarms
WHAT'S
PROXIMITY PLUS?
PROXIMITY PLUS is the advanced collision avoidance system that combines the most innovative Real- Time Locating Technologies (RTLS) to identify the reciprocal position of vehicles, people, and fixed obstacles with extreme precision.
The system calculates the speed and trajectory of vehicles and people interacting in the areas based on location data. This enables the modeling of the alert and warning areas around moving vehicles in a coherent and appropriate manner, reducing false alarms and unnecessary workflow slowdowns for safety.
PROXIMITY PLUS intervenes only in truly dangerous situations, as it adds information derived from vehicle trajectory to the most traditional distance measurements, avoiding potential accidents and collisions by signaling alarms onboard the vehicle and, only when necessary, slowing the vehicle.
PROXIMITY PLUS is the best solution for maintaining people and vehicle safety as well as production efficiency.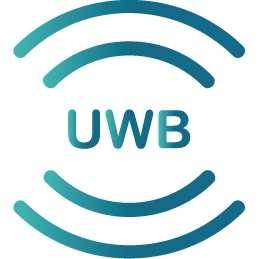 UWB technology
PROXIMITY PLUS uses UWB (Ultra Wideand) technology, used in high-precision location technologies, which allows a coverage radius of up to 25 meters.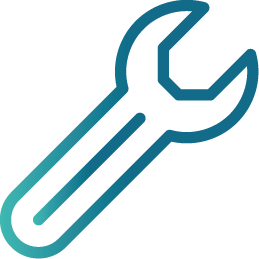 Flexibility of use
Can be used as a stand-alone system via a dedicated mobile application or in conjunction with TrackVision to add futures related to vehicle monitoring and shock detection
Man down alarm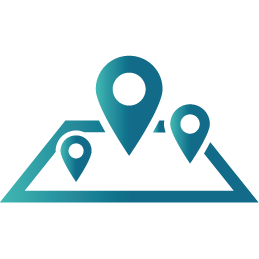 The automatic and zone-specific slowdown
The system can slow vehicles automatically in case of danger and/or if they enter areas with speed limitation. In conjunction with Ubiquicom Locator it can enable intelligent logic related to context conditions (traffic, number of people, etc.)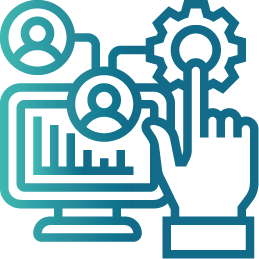 Integrated with RTLS technology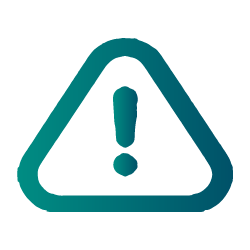 False Alarm Minimization
Alarms and slowdowns are only implemented in cases of real danger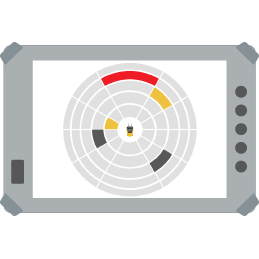 Integrated vehicle mount computer
The Forklift Companion allows for viewing the location of surrounding obstacles and is integrated with other UBIQUICOM solutions.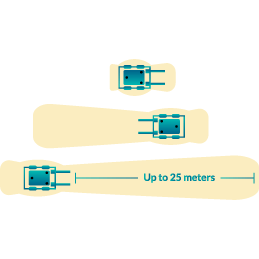 Configurable and adaptable safety area
The shape of the warning and alarm zones can be configured and adjusted to the speed and direction of the vehicle in motion, in a variable and targeted way so that the potential risk is recognized with the utmost probability
ANTI-COLLISION: UNCOMPROMISED SAFETY AND EFFICIENCY
How much do accidents and injuries cost a company?
How much does the continuous slowdown of moving vehicles affect operational efficiency?
How much can you save by investing in active safety?
PROXIMITY PLUS is developed to improve safety and efficiency in intralogistics, manufacturing industries and, more generally, in all locations where the risk of collisions and incidents between vehicles, people and permanent obstacles is higher.
This advanced anti-collision system for handling means offers the following advantages:
Dramatically reduces false alarms whileining operational efficiency
Increases the safety of workers by preventing collisions with handling equipment
It makes the handling of goods safer.
Ultra-high precision collision avoidance based on
distance (UWB)
real-time position (RTLS)
PROXIMITY PLUS is the new frontier of anti-collision. Compared to traditional systems, it provides the instant recognition of the mutual position of vehicles and people, and it can be configured to adjust the safety areas around the vehicle.

The collision avoidance system is based on the utilization of UWB (ultra wideband) technology, which enables real-time (sampling up to 10 Hz) identification of not only the distance but also the exact location of vehicles, persons, and fixed obstacles in the working areas.
The exact location is determined by use of on-board radars and tags assigned to staff and/or placed on fixed-position obstacles. Radar and person tags allow you to identify risk situations and automatically implement actions to help prevent collisions.
Due to its extensive configuration flexibility, PROXIMITY PLUS is able to identify various risk profiles based on the precise location of obstacles (front, back, or lateral position) and apply various reaction profiles consistently.
MACHINE TO MACHINE ANTI-COLLISION
PROXIMITY PLUS, when placed on moving vehicles, generates acoustic-visual alarms when another vehicle enters warning and alarm zones and allows for automatic countermeasures (for example, automatically slowing both vehicles).
The possibility of shape and size the threshold zones around the vehicle (alert and alarm) also enables for differentiation of true risk situations. A vehicle coming from the front, for example, can be seen as an alert, while a vehicle that is moving away from the rear may be ignored.
By using a warning and alarm scheme, the system reduces the risk of collision between vehicles.
The following figure shows the cases of side impact, frontal impact, and the absence of danger in the case of parallel trajectories.
MACHINE TO PEDESTRIAN
ANTI-COLLISION
The PROXIMITY PLUS radar, mounted on the vehicle, and the person tag, worn by the pedestrians, create acoustic-visual alerts on the vehicle and acoustic-mechanical alarms (vibration) on the personal tag.
With its adjustable logic and cutting-edge technology, PROXIMITY PLUS enables the execution of various countermeasures according to the location of the person tag, which may be frontal, rear, lateral to the middle, traveling away from the direction of movement, or moving parallel to it.
In the case of dangerous situations induced by near transit, the system alerts personnel on foot and in vehicles, safeguarding operators and pedestrians from potential risks of impact.
SAFETY AREA
CONFIGURABLE
AND ADAPTABLE
The shape of the alarm and alarm zones of the vehicle can be adjusted according to the speed and direction of travel of the vehicle to adapt to the potential risk in a flexible and targeted manner.
THE PROXIMITY PLUS KIT
The system is equipped with a person tag for each operator, three PROXIMITY radar for each vehicle, and the "Forklift Companion" a vehicle mount computer (optional) on board.
The use of three PROXIMITY radars ensures the best performance on every industrial or off-highway vehicle, even those of large size: forklifts, aerial platforms, cranes, excavators, tractors, bulldozers, and backhoes.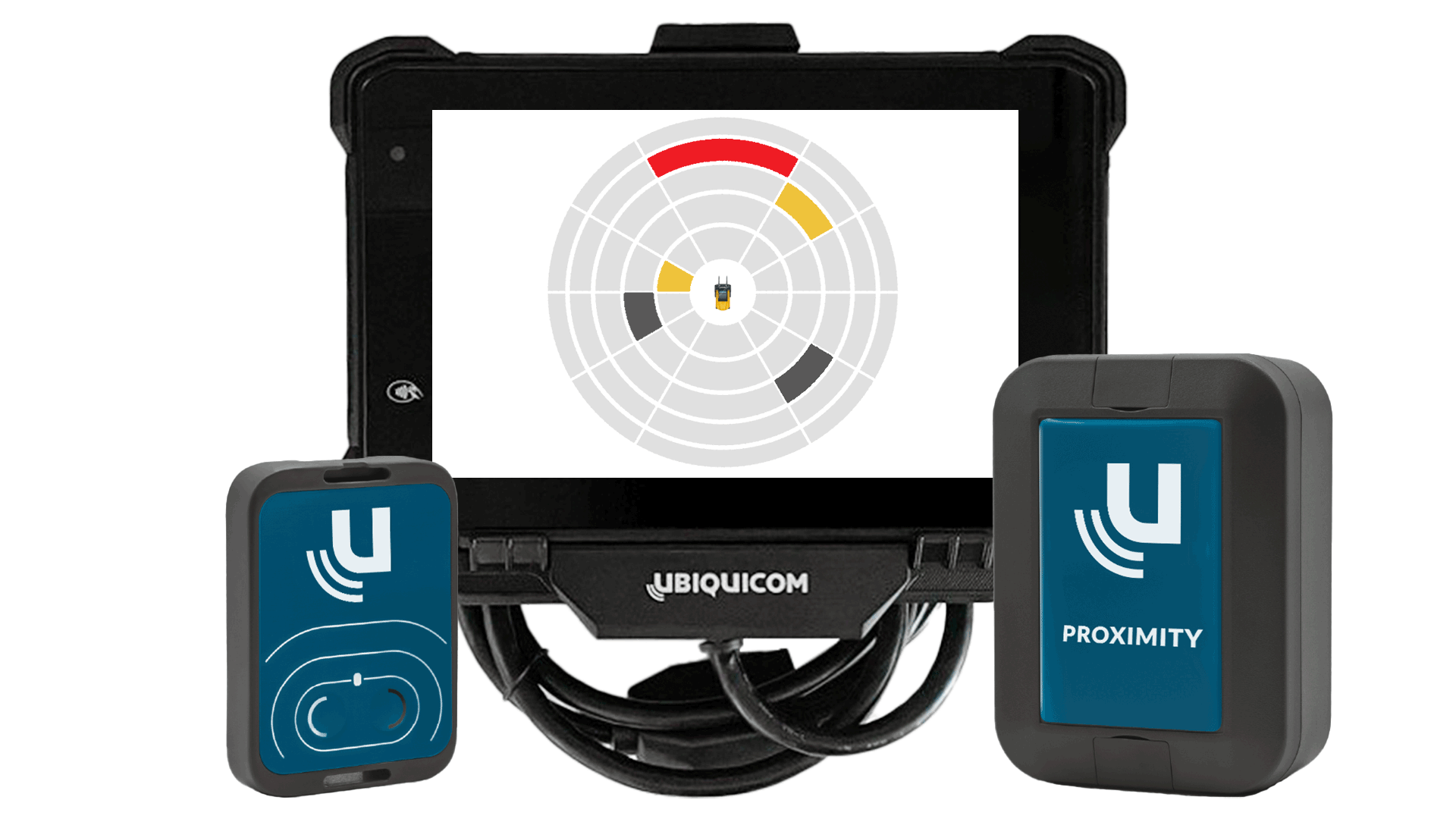 The Person Tag is equipped with a long-range Bluetooth Smart 4.0 module, temperature-activated triaxial accelerometer and motion sensor, a 128 MB "Flash" memory, front and rear RGB LEDs, two buttons, the Buzzer for sound signaling and haptic motor, notice for "man down", the case is customizable.
TECHNICAL SPECIFICATIONS
Battery life: 10 – 12 hours (covers the working shift)
Charging time: less than 4 hours
IP Rating: IP65
Operating temperature range: -20 ºC to +60 ºC
Dimensions: L 76 mm x H 54 mm x P 12 mm (clip excluded)
Radar PROXIMITY is based on UWB (Ultra Wideband) technology and is designed for industrial, indoor and outdoor, environments. It requires no calibration, has a straightforward installation process, and has two built-in, programmable relays for actuation control.
TECHNICAL SPECIFICATIONS
Power supply: 5 to 12 V
CAN BUS: 1
IP Rating: IP67
Temperature range: -20 ºC to +60 ºC
Dimensions: L 75 mm (excluding cable gland) x H 100 mm x P 35 mm
USE CASE SCENARIOS
The anti-collision system PROXIMITY PLUS is suitable for logistics, port logistics, land handling, mining, agriculture, and factory, warehouse, shipyard, port, quarry, and crop work sectors. The three radar-based technology provide compatibility with a wide range of industrial vehicles, from forklifts to land handling equipment.
ADVANCED SAFETY FEATURES
PROXIMITY PLUS provides an array of advanced features for the utmost safety of people, vehicles and goods, also when combined with other solutions from the Ubiquicom Safety Ecosystem:
"Opposite side" protection in case of operation on shelves and vertical warehouses
Zoning is used to limit and manage vehicle speeds in both static and dynamic modes, based on logic connected to the context conditions (traffic, number of operators, etc.)
Some safety rules can be implemented on customised time slots to create time slots associated with distinct risk profiles (for example, day versus night)
Man down function, for the safety of workers and the prompt intervention in case of illness or danger
Impact and accident detection, with the vehicle in a limited mode of operation until unlocked by the holder of the Badge Master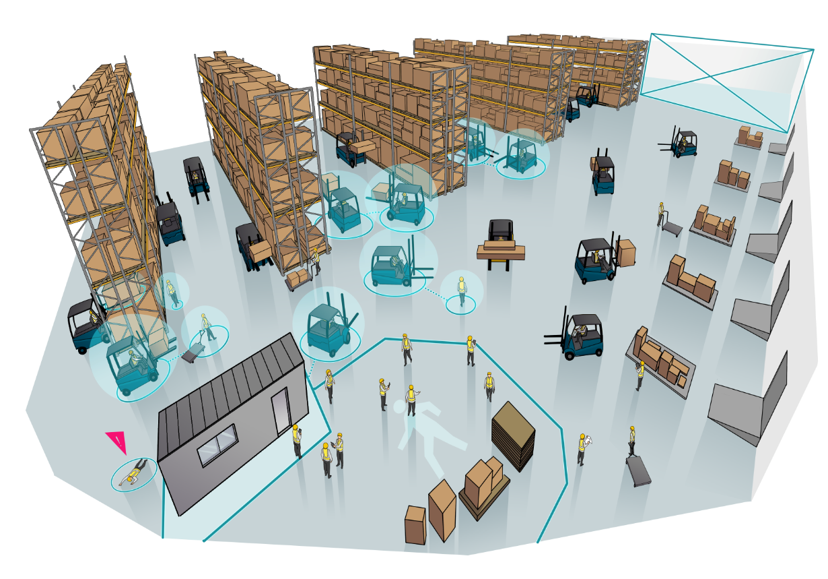 UBIQUICOM
SAFETY ECOSYSTEM
SAFETY AND EFFICIENCY WITHOUT COMPERMISE
Contact us for demos, brochures or more information