ISC
A suite of tools and services for data-driven fleet management
of cleaning equipment
THE CUSTOMER
ISC is a historic Italian company with more than 40 years of experience in the distribution and maintenance of commercial cleaning equipment. ISC selects the most effective, innovative, and sustainable industrial cleaning products available in today's global market.
For two decades, ISC has been the exclusive distributor of Tennant products in Italy. These products, such as scrubber dryers and sweepers, are renowned for their construction materials, technologies, safety, and user-friendliness.
THE REQUIREMENTS
The Customer needed to build smart services to share the support data collected with those available to users of industry 4.0 machines, in order to have intelligent and ideal fleet management.
ISC, as an importer and distributor, decided against relying on fleet management systems developed by manufacturers, since they are not able to be integrated and, more importantly, are separate from maintenance activities; instead, they have chosen to develop their own system of services and applications for machine management and customer-ISC interaction.
THE SOLUTION
In 2022, ISC equipped its Tennant fleet machines with NeoBox hardware and Ubiquicom devices intended for tracking and telemetry of vehicles and small motorized assets.
Connecting with the concept of Industry 4.0, a machine monitoring and remote control system was developed, based on Ubiquicom's TrackVision software platform, which communicates with the cleaning machines through the NeoBox hardware device mounted on the vehicle.
Based on the experience of more than 20,000 installations of BlueBox, the device developed by Ubiquicom for monitoring fleets of forklift trucks and large handling equipment, NeoBox is designed to meet the need for fleet control of the vehicle and small dimension handling equipment, such as industrial cleaning machines.
The device enables vehicle locating and the collection of telemetry data to measure a variety of operational parameters, such as:
the status of the machines (on or off),
times of use (when and how much the machine was used),
the position and characteristics of any impacts.
The interface also manages access control to machines via RFID badges.
The NeoBox BLE module enables communication with any existing or future ad hoc beacon infrastructure and permits highly accurate indoor tracking, even in buildings with multiple levels.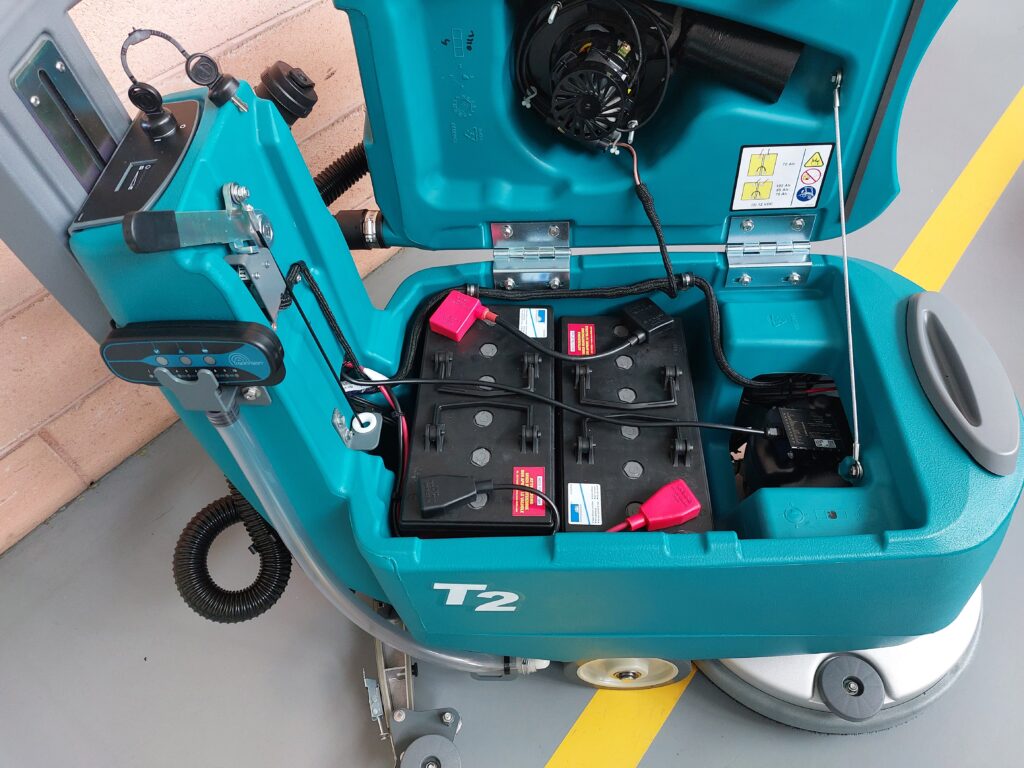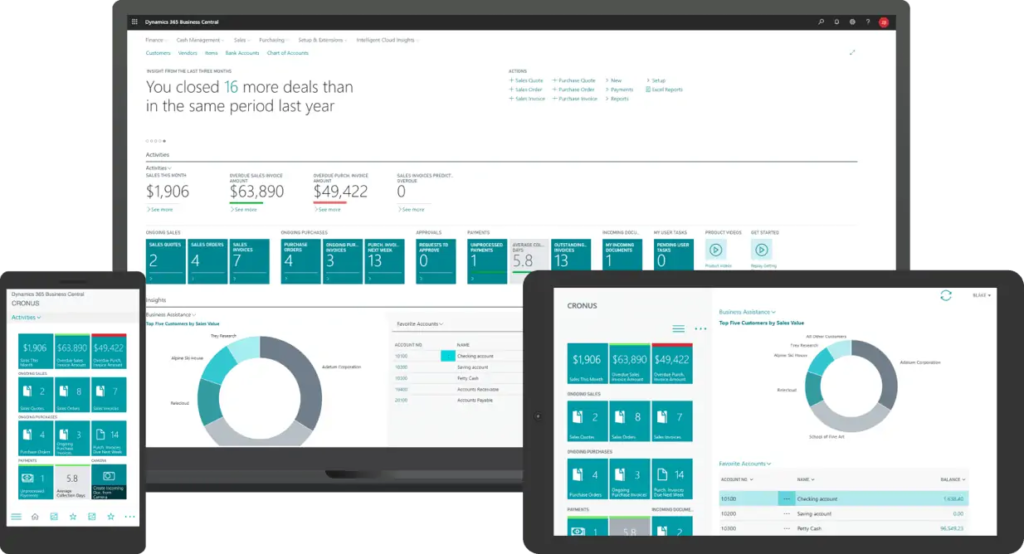 RESULTS
ISC can cross-reference maintenance and service data with machine usage data provided by NeoBox, thus obtaining more accurate and useful information to understand:
which machines are most commonly used,
how are these machines being used,
what malfunctions occurred,
what is the battery charging status.
In addition, ISC may collect aggregated data for the conscious management of its fleet.
Thanks to data analysis, a company is able to:
increase efficiency,
reduce expenditure,
maximize operating time and fleet size,
ensure the health and safety of personnel,
optimize resources,
identify areas for improvement.
ISC, therefore, is able to provide customers with machines that have the connections required to receive the tax benefit of Industry 4.0, as well as a digital environment that increases the transparency, awareness, and efficiency of fleet management.
Due to the joint venture with Ubiquicom, ISC was able to reach its aim of establishing an ecosystem of services and applications related to machine management and their interaction with customers called ISC Smart4, which is made up of 4 interconnected applications.
Smart4Fleet: a system for monitoring and reporting the machine use
Smart4Analytics: business intelligence tool for the analysis of costs and use of machines with reference KPIs and size analysis
Smart4Tracking: indoor tracking system
Smart4Parts: portal for placing orders, checking the availability of spare parts, comparing pricing on consumables, and monitoring the order's processing status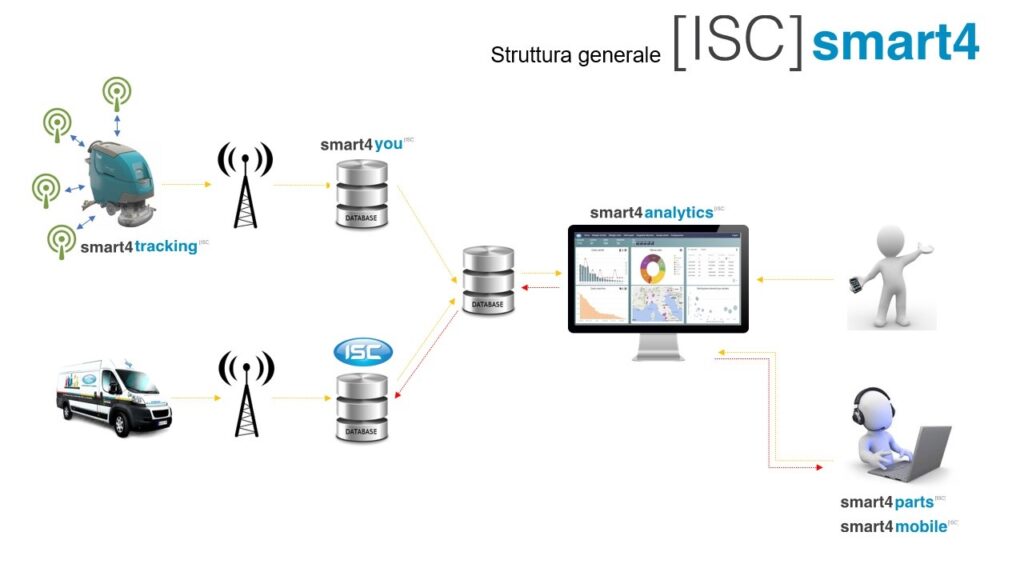 "For ISC, digitalization is not new: the service has been fully computerized for years, to offer full traceability of all activities carried out at a top level of detail. The new smart services that ISC is developing, – according to CEO Stefano Grosso -, were inspired by the idea of being able to share our data with those available to customers of Industry 4.0 with a view to an intelligent management of cleaning machines. The integration of service data with Tennant 4.0 machine operating data allows the creation of more advanced metrics for management control, such as cost per hour of work, cost per square meter, estimated consumption, and other useful data to streamline processes."
Over the years Ubiquicom has helped numerous companies improve their corporate processes, reduce management costs and increase efficiency.
Discover which companies have taken advantage of Ubiquicom's know-how to improve their productivity!